Home Price Forecasting
12, 24 & 36 month forecast for each local market. The forecast is the average change in home values in the local market. The forecast is based on the latest local economic data available, including actual local changes in home values, recent local job and income growth, population trends, and local home price cycle analysis.
Equilibrium Home Price
The Equilibrium Home Price allows us to determine if a market is in balance or is over-priced, by comparing the calculated Equilibrium Price with the actual average home value. Over-priced markets always return to the Equilibrium Home Price, and the greater the difference between actual and Equilibrium prices, the greater the risk of an eventual sharp drop in prices. This model identifies the risk and extent of a house price bubble.
Residential Capitalization Rates
The Capitalization Rate is a rate of return widely used in real estate investment to calculate the value of a property. It can be thought of as the annual yield an investor expects to get. If the annual income from a property is known- typically the annual rent minus the annual expenses- then the property value is calculated as:
Property Value = Annual Net Income / Cap Rate
For example, if the annual income is $30,000 and the cap rate is 7 percent, then the value of a property is $30,000/ .07 = $428,000.
Putting a value on a property in this simple way ignores future changes to income or to property values. And the actual yield an investor gets can be much higher than the cap rate, because of the leverage provided by a mortgage. Because of the difficulty of forecasting rents, expenses, and future values in real estate make the cap rate is a handy alternative for estimating the price an investor should pay.
Rent Forecasting
The Rent Forecast includes three factors: inflation, pressure from jobs, and pressure from home prices. In an inflation-free market where jobs and home prices are either stable or growing at moderate rates, rents would be stable. When jobs are growing rapidly, either income or population grows rapidly and demand for housing puts upward pressure on rents; similarly on the downside. Rents generally are closely aligned with local income, but during periods of rapidly increasing home prices they get pulled up; similarly on the downside.
Investment Suitability Ratings
The Investment Suitability Ratings identify markets where the underlying economic situation points to conditions that are especially favorable or unfavorable for real estate investment. Markets that are not considered typical risk/rewards are classified into the following categories:
Dangerous - Even though home prices have fallen a lot, continuing declines are likely and any meaningful recovery is still years off. During periods of increasing prices, markets fall in this category when they are highly over-priced.
Speculative - Markets that have a good chance for bargains right now and above-average price appreciation in the future, but could produce short-term losses.
Favorable - Markets are not likely to create losses in coming years, and should produce slightly better than typical returns in the future.
Typical - Markets are not likely to create losses in coming years, and should produce flat to moderate returns in the future.
Rating Sample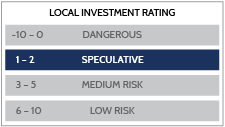 Portfolio Forecasting
The Local Market Monitor Portfolio Forecast tool allows you to calculate the current and forecasted value for each property in a portfolio in minutes. You can process an entire portfolio using these 3 easy steps:
Select an Excel workbook on your computer
Enter the columns that contain the relevant input data along with the number of header rows
Press the "Process Portfolio" button to process the workbook
The tool will return a file which includes the current and forecasted value for each property in a portfolio. Additionally, you can run stress tests on your portfolio by changing economic inputs. To learn more, please contact us at 800-881-8653
Build a List
Develop customized lists of the markets and data you need to monitor. Save the list in your account, download the list to Excel or monitor the list ongoing by having it emailed to yourself on a monthly basis. Build a List data includes:
Peak Quarter: The last year/quarter there was Increase in home values in the market
Peak Change: The % change in home Values since the market peaked
12 Month Change: % change in home Values in the last 12-months
Actual Home Price: Actual average home Price in the market
Equilibrium Home Price: see Equilibrium Home Price
Valuation: % difference between EHP and Actual home prices (how over/under valued is the market)
12-Month Forecast; 2-Year Forecast; 3-Year Forecast : see Home Price Forecasting
Unemployment Rate: updated monthly
Job Growth: updated monthly clearly shows the direction of the local economy
Investment Suitability Rating: see Investment Suitability Ratings
Single and Multi-Family Housing Permits: updated monthly
Current Monthly Rent: see Rent Forecasting